We Thrive In Community
June 23, 2022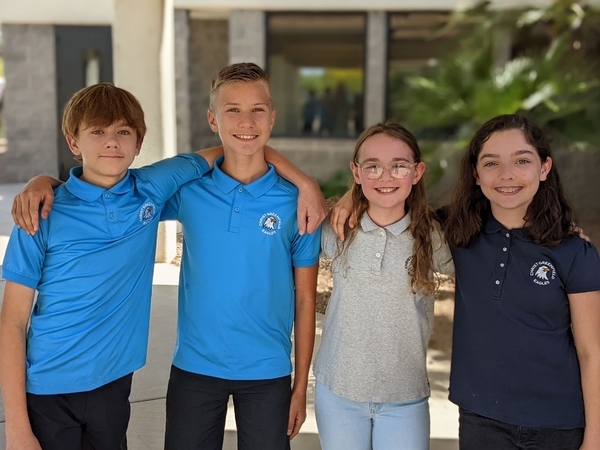 "The feeling of a safe and friendly environment is one of the best things that Christ Greenfield provides for our child and family." Parent Survey Comment, June 2022
We are a unified mission-minded church and school
If your family is seeking a church home, we'd love for you to check us out.
Together we host community events like Harvest Fest!
Christ Greenfield Church and School together support Garuna Kids, World Vision, and Open Door Ministries.
Every week, we serve the areas of Mesa & Tempe creating Christ-centered communities among the homeless and working poor through La Mesa Ministries.

"Everyone does a great job at making it a warm and inviting place, where you feel like part of a family and not just a number. The teachers and staff
do a wonderful job at incorporating God in the lessons and day-to-day operations. The school also does a great job at having fun events throughout the year to help families get more involved in the school." Parent Survey Comment, June 2022
We intentionally create opportunities to connect and
grow relationships
Check out the Back-to-School Calendar filled with ways to connect right away!
PTO Family Events Connecting Families to Families

Pool Party, Trunk or Treat, Mother/Son Date Night, Daddy/Daughter Dance, Holiday Shoppe, Fun Run and more!

K-8 Family Ambassadors Connecting Families to Families
Middle School Ambassadors Connecting New MS Students to Student Leaders

Student leaders in middle school were nominated by teachers to help new middle school students transition to CG. They will be at the MS orientation on July 28 ready to make new friends.

Birds of Pray Partners (Get it? "pray" instead of "prey") Connecting Younger Students to Older Students

Homerooms will be paired up to encourage relationships to grow organically while students sit together at chapel, engage in quarterly activities or service projects, and just have fun together!
We expect a culture of mutual respect everywhere for everyone
We create a culture of respect through virtues and character development.
"[The teachers] know their students as individuals very well and treat them accordingly… Christ Greenfield staff offers grace abundantly and models respect and dignity well for our students." Parent Survey Comment, June 2022